[ad_1]
Week 17 is finally here. And, of course, it had to come out with a bang. The Fantastic Championship features one of the worst forecasts I have seen in my time covering the weather. It looks like all the bad weather games were saved just in time for the most important games of the season. Anyway, let me recap one of the games from last week and then explore the ridiculous number of games to watch before Sunday.
Week 16 recap
I was traveling for the holidays, so I had to shake up my usual routine, but still had my eye on the radar. Seattle was expecting snow and I received my regular Sunday morning ping from John Paulsen regarding the incoming snow showers and a screenshot of the forecast.
You see the word "showers" and also see 0.20 inch and think some calamity will follow. I know I'm the most skeptical about the weather, but I still wasn't worried.

I wrote about it last year, but the snow and precipitation rates are not the same. As they should be, right? They are two different forms of the same element. So if it takes ten times as much snow for even a minor impact, Seattle would be fine. The media have not been so kind to my analysis.

These photos are from the same field of the same day, but it was an envelope after the video with the first shot came out of. People thought of LeSean McCoy's snow game just when they saw the snowy field. Not to say that Rashaad Penny or David Montgomery were terrible games, but both passing games would still be viable. And I want to stress the word "viable" again because it was still a low total game even before the weather news. But let's look at the game from a "team intent" perspective.
CHI / SEA team intent, week 16
WED
CHI
Before week 16 *
Week 16
Before week 16 *
Week 16
Play run
54.1
53
61.5
69
Neutral success rate
50.3%
33.3%
46.0%
42.4%
SPREP
0%
-seven%
-3%
-5%
Yards per attempt
7.6
6.7
7.2
7.1
Red zone success rate
59.3%
57.1%
54.6%
41.2%
Deep bullet rate
17.9%
14.8%
12.3%
8.6%
* – Wilson games started and ended healthy (weeks 1-4, 10-16).
I'm getting mixed signals here and less inclined to cite the weather as an important factor. Seattle was down in all categories, but Chicago was basically the same. The Bears were on their third quarterback and still managed at rates similar to their seasonal averages. Their intention drops are where I would expect to see them (red zone and deep ball rate).
By the numbers, Seattle had a "let's get ahead and try to sit down" game plan, and it failed. It aligns with the increasing disconnection between Wilson and Pete Carroll and the failures of their aerial attack after Wilson's return. Regardless, watching the replay of the game, there was no play showing the weather as a factor in his result other than a bad punt from Seattle in the second quarter. Now let's take a look at week 17.
Games to watch
BLUF: Lawd, have mercy. Of course, we get the apocalypse in week 17. We have a little bit of everything this week. I only worry about three games: NYG / CHI, DET / SEA, and MIN / GB. Each will present extreme conditions or a mixture of the two. I would limit exposure to base games in each unless conditions improve.
Also, the ATL / BUF game will look bad, and we'll probably have the same pre-game video of the people dumping like in Seattle last week. However, Buffalo will have covered the field according to league protocol and the playing conditions will be manageable. Check my ratings below, but I'm less concerned with this contest unless things get worse.
Games impacted by cold
Minnesota
Vikings

(19.75 points in implied total) at Green Bay

Packers

(26.75)
New York
giants

(15.5) in Chicago

Bear

(21.5)
Cleveland
brown

(22.25) in Pittsburgh

Steelers

(18.75)

I had a question about the MIN / GB game almost two days ago, so I'll start here. I posted this table a few weeks ago on the cold weather and its limits on the passing game. Usually, the temperature is the crowning achievement of an aerial attack. I apply this logic to the CLE / PIT game, but the others are worse.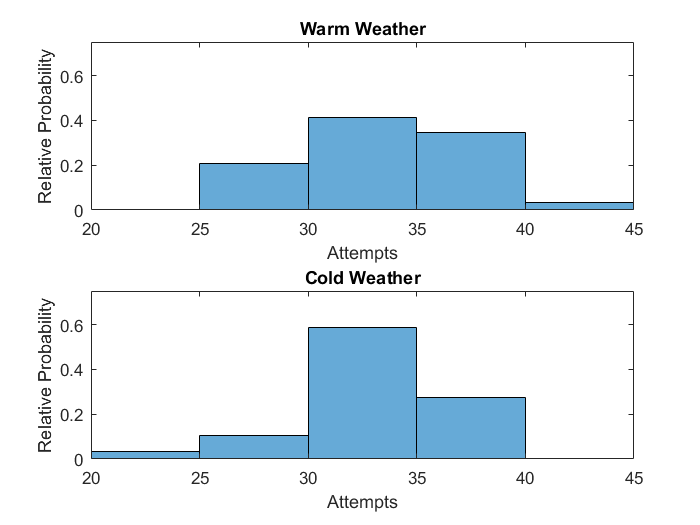 But the forecast for Sunday night shows freezing temperatures everywhere with the wind chill. It is therefore not a general case. I searched my database for clearances of 10 degrees or less and found these clearances for reference.
My big takeaways from these games:
The least was hit in 9 of 13 games.

All of the Packers' games touched less and Green Bay was under their team's projected total in each.

Only 7 of 26 quarterbacks passed 250 yards.
The teams played an average of 56.7 games per game.

Green Bay has been below par in two of its three games with Rodgers.

The average number of successful attempts was 31.1.

Rodgers was below par in all but one game.

Only 9 of 26 teams had a success rate of less than 50% on all offensive games.

Rodgers' success rates were 48.1%, 59.1% and 61.2%.
The Packers turn 30e neutral looking, and Sean Mannion will be under center for Minnesota. The Vikings were in the middle of the pack in terms of success rate compared to expectations, but I don't expect the same volume for a guy who just got off the COVID list. The cold combined with a weakened playing environment will make it difficult to find fantastic value outside of the median results for players like Davante Adams and Justin Jefferson depending on the goals.
Wind-impacted games
Miami
dolphins

(18.25 points implied total) in Tennessee

Titans

(21.75)
Kansas City
Chefs

(28) in Cincinnati

Bengals

(23)
Tampa Bay
Buccaneers

(29.25) in New York

Jets

(16.25)
Los Angeles
Rams

(25.5) in Baltimore

Ravens

(21)

Like I said in my "Bottom Line Up Front" statement, I'm not overly worried about any of these games. But, I will caution fantasy managers with a few detailed points of each contest. Let's start in Nashville with wind and rain.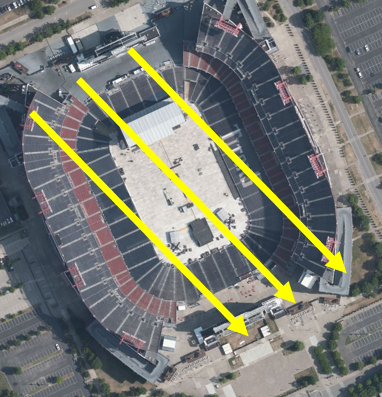 Rain will peak at 0.03 inches per hour, a minor concern. Unpredictable events like a fumble or passing to a receiver for an interception can occur, but this will not change success rates. The stadium is almost in line with the airflow, reducing the chance of crosswinds, so both sets of passes are safe. However, both ends of the stadium are open. I'm not worried about deep passes as Tannehill and Tua are 26th and 29th for deep ball rate since Week 10. But kicks can be affected, so check the pre-game warm-ups. The game of the Bengals unfolds in the same way.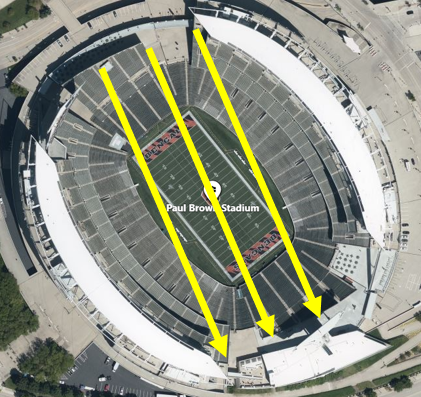 The Paul Brown Stadium has a similar design with seats along the sides rising to 157 feet and both end areas open up. Again, my only concern is with the kickers as both offenses are in the top 12 in neutral success rate over the past month. I'd be worried about how strong Joe Burrow's arms were when making deep passes in the wind, but the playing conditions weren't that precarious. We're safe unless the wind speed drops within 20 seconds. These next two games just need to be deepened.
Games impacted by rain
Detroit
the Lions

(17.75 points in implied total) in Seattle

Seahawks

(24.75)

The DET / SEA game is the ugliest on the slate. It will be cold (34 degrees), it will rain (0.08 inch per hour) and it will be windy (16 mph). Both teams have a slow pace and rank in the bottom 12 with a neutral success rate in the first downs, so it will be difficult to find fantastic points. Surprisingly, the cold and the wind are the least of our concerns.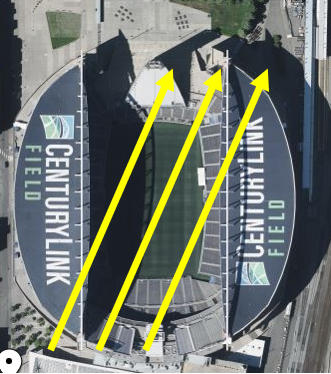 Although Lumen Field is not a dome, it is remarkably high at 260 feet. The northern end is open, but the winds are coming from the south. Since we have rain and not snow, temperature is not a factor for the rooms. So, all that's left is the rain to consider.
The playing surface uses FieldTurf Revolution 360, which can evacuate water during a game. However, this is for light rain and not 0.08 inches per hour. I have a 2020 game with a similar rush rate, and it was Week 10 BAL to NE. This only happened in the second half and both teams were already in the bottom 4 when it comes to neutral passes. A brief review of the intention of the two passing attacks gives us an idea of ​​the effect of the rain.
Expected success rate during 2020 W10 BAL to NE.

| Anticipated success rate | T1 | T2 | T3 | T4 |
| --- | --- | --- | --- | --- |
| Baltimore | 50% | 85.70% | 54.50% | 66.70% |
| New England | 25% | 30.80% | 20% | 16.70% |
Air Yards by pass during 2020 W10 BAL in NE.

| Areas per pass | T1 | T2 | T3 | T4 |
| --- | --- | --- | --- | --- |
| Baltimore | 8.7 | 6.3 | 8.7 | 8.4 |
| New England | 1.3 | 5.5 | 6.7 | 2.6 |
New England took the lead in the second quarter and held it for the remainder of the game. As a result, you can see their success rate drop rapidly. However, Baltimore recovered, and Lamar Jackson's predicted aerial yards per pass didn't change, even in the rain. In addition, both teams were close to their average play-per-match pace (BAL 61.5 on average against 64, NE 64 on average against 56).
What I take away is that we knew who to start with in this game last year, even with the rain. It's the same now. The data, while this is a one-game sample, indicates that the rain does not significantly alter the team's intention, so every fantastic option should still be viable.

Games impacted by snow
Atlanta
Falcons

(14.75 points in implied total) in Buffalo

Invoices

(29.25)

The forecast for Orchard Park calls for rain all day Saturday, which will turn to snow that evening. Thus, the conditions on the pitch will be a concern even before the start of the match. However, the team must cover the pitch up to two hours before kick-off according to league protocol. It will snow during the game, but the snowfall rate will be 0.10 inch per hour, which equates to 0.01 inch per hour of rain. The pitch may look like Seattle's, but there were no incidents. Wind can also be a factor.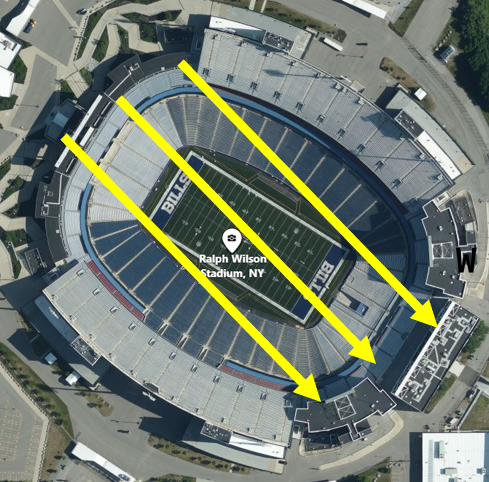 The maximum wind speed will be 16 mph from my last data fetch, so it barely crossed my worry threshold. But New Era Field is one of the league's shortest fields at 110 feet tall. The wind was much worse against New England when Josh Allen posted his lowest CPOE of the season at -8.7%. If the wind holds up, I'm not concerned. If it gets worse, I'll focus on the main parts (Allen, Diggs, etc.).

[ad_2]